Firstly, please allow me to apologize for not posting last week- a little hurricane by the name of Irene had other plans. I'm safe and sound, though was without Internet for five days.
I'm back and have an amazingly simple yet decadent recipe to share.
Can we call it a recipe if there is no cooking involved? Yes.
Without further ado: citrus olives
Buy 1- 2 lbs of mixed olives from your cheese monger or gourmet grocer. Do not skimp on quality! Do not buy stuffed or spiced olives. Do buy the best imported ones you can find, and have them packed in scant brine. Need an olive cheat sheet? Check out this useful
guide
.
Buy an orange, or several if you feel like making
supremes
.
Place olives in a bowl with scant brine.
Quarter orange and cut into moderate slices. Or remove peel and slice into supremes.
Place orange slices/supremes with olives, stir gently and let sit.
Marinate at room temperature for two hours, or cover and chill for up to four days. Let come up to room temperature before serving.
(Kindly provide paper cocktail napkins or have a few small ramekins nearby for olive pits.)
You'll have lightly citrused olives and a bit of citrus olive oil brine- which is fantastic on warm, crusty bread- your reward for being so fiendishly clever and charming. The orange sections will melt in your mouth. To quote Auntie Mame, "they take up too much room in such a small glass", so keep olives out of your martinis.
Place your citrus olives next to your cheese plate next time you have company and watch them disappear.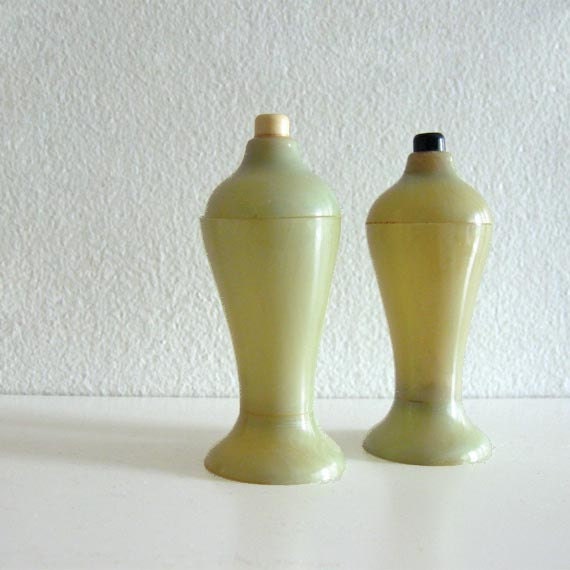 Don't let your olives have all the fun- color coordinate with these lovely salt and pepper shakers from ismoyo.
Which olives are your favorite variety? Have you ever brined your own olives? Do you prefer your martinis with or without olives?